Moving to college and living alone for the first time can be both scary and exciting for a lot of students. When deciding whether to live on campus or in off campus housing, there are a few things to figure out first. If you choose to live off campus, there are additional decisions to be made about what kind of place you want to live in. If you're in search of the perfect UC Berkeley housing to fit your lifestyle needs, utilize this Types of Student Housing Guide, courtesy of the team here at Stonefire Berkeley.
---
Housing For UC Berkeley Students
While living on campus gives students fast access to classes and other on campus activities, it's important to consider the downsides as well. In many cases, on campus housing is cramped, outdated, and requires shared living space with one or more fellow students. Residents of on campus housing are also expected to share laundry facilities, common areas, and community spaces with other students residing in the building (and their guests!), which can be frustrating. While living on campus might suit some, it's important to explore all options — including off campus housing — before signing a housing contract.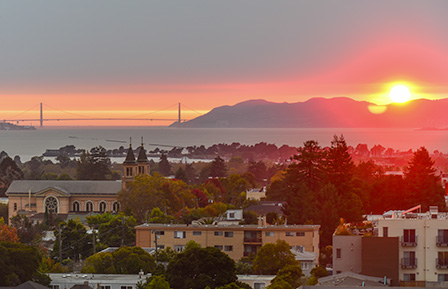 Boundless Living Options
Dorms At UC Berkeley
In television shows and movies, living in a dorm seems like the greatest experience ever. Being close to friends, having access to an array of fun events, bonding with neighbors in the common room — dorms seem like the best place for students to live. But something to consider is that privacy is very limited. In many cases, residents share space with one to three other people who are often strangers. While making new friends is a part of the college experience, living in tightly-packed quarters with these new individuals isn't always ideal. Don't settle for a subpar living experience when you could enjoy luxury living arrangements at our apartments near UC Berkeley.
Homes In Berkeley
The idea of living in a house might be something students miss once they leave for college. Because of this, it's easy to see why students are attracted to living short-term in a house. But consider the type of landlord that you'll be renting from over the course of your housing contract. A strict landlord could easily make life miserable with unannounced visits and nit-picking the condition of the home. A more laid back landlord might take days or even weeks to make repairs on dishwashers, air conditioning, and appliances throughout a home. For these reasons, be cautious when considering renting a home.
Apartments Near UC Berkeley
There is an abundance of apartments near campus in Berkeley, and every resident wants to find the one that suits them best. It's important to choose a home where you'll feel comfortable and enjoy the living arrangements, especially since housing contracts typically ranging from six months to a year. Living in an off campus apartment means there's no resident assistant (RA) to answer to, and many community amenities are located conveniently close by rather than scattered around campus. But not all apartments are made equally — some offer very few amenities or interior features, and they may even be located far from campus, meaning longer commute times to get to class.
Berkeley Townhouses & Condos
If apartments don't suit your needs, a condo or townhouse might be a better option. Before settling, keep in mind that although condos and townhouses typically offer more space than traditional apartments, most of these communities require residents to join a homeowner association. By being a part of this association, residents pay fees and abide by other rules in order to live in the community. For students, these costs typically don't outweigh the benefits that come with living in a townhouse or condo.
Luxury Apartments Near UC Berkeley
We've saved the best type of student housing for last: Luxury, student apartments with amazing amenities in a social environment. Don't bother with low-quality housing or pesky homeowner association fees; instead, join our luxury community at Stonefire Berkeley. Our apartments by UC Berkeley are conveniently located just a few blocks from campus, and we offer a myriad of deluxe community amenities. Each of our apartments is outfitted with premier interior features, such as large closets, stainless steel appliances, granite counters, and so much more. Forget about cramped, dull living arrangements, and schedule a tour with us today to see what it feels like to live as an elite.