Organize Your Life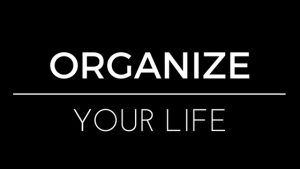 ---
The Stonefire Apartments Blog has a few tips to help you organize your schedule and your closets. Use our tips to clean up your life and let go of your stress. We hope that you have an organized (and stress-free) month!
Organize Your Schedule
Start organizing your schedule by getting a reliable planner. It's important to pick a planner that fits your lifestyle and your schedule. Some people work best with monthly planners, but others find weekly or daily planners more effective. Many people write their big goals and events on a monthly calendar and use their planner or journal for their day-to-day schedule. You can find a large variety of calendars and schedules at Target.
Once you've got your planner, figure out how you'll prioritize each task. You should finish your most important tasks first. It's important to use your energy on your most important goals. Figure out which tasks you need to get accomplish each day, and which tasks you would like to get accomplished. Make sure that you get your "need to get accomplished" list done. You can save items on your "would like to get accomplished" list for another day, if you need to.
Also remember to schedule some free time into each day. You'll get burned out if you work too hard and forget to take some time to look around and smell the roses!
Organize Your Closets
Decrease the stress in your life by cleaning out your closets. We recommend clearing everything out of the closet first. This gives you the chance to clean or vacuum the floors and wipe down any shelves in your closet. Once everything is clean, go through your things. Throw out anything that is old, broken, or that you no longer use or wear. Donate any unwanted (but still usable) items to your local thrift shop or donation center. After you've gone through everything, come up with a system to organize your things. We recommend using a closet organizer. Wayfair has an awesome selection of closet organizers.
Do you have any scheduling or organizing tips for us? Leave your best advice in the comments section. Thanks for reading our post!