How To Shop Your Local Farmer's Market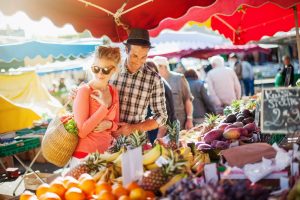 ---
Seasons are changing and there is definitely a chill in the air! Just because the leaves are falling around your Stonefire apartment doesn't mean we have to skimp on any fun this month. There are fun things to do all over the area. Attending community events is a great way to support local vendors and economy, as well as get to know new people with your same interests.
For those who are not familiar with shopping their local farmer's market, it can seem intimidating at first. Storing and using fresh vegetables does take a little bit of extra effort, but it is definitely worth it. Learning how to incorporate these ingredients into your favorite dishes adds a nutritious touch to your meal. As locally grown produce is most likely organic and contains fewer pesticides and preservatives, foods may not keep as long, so definitely plan ahead. We found some tips from Serious Eats which will definitely be helpful as you get familiar with the market. The site says, "The season's first strawberries and finest [morsels] will disappear within the first hour that the market is open, so if you've got your heart set on something in particular, it pays to wake up early. This is especially true if your market caters to restaurants as well as civilians, since chefs will be there first thing and won't always leave a lot for the rest of us.
If you're a late riser looking for an excuse, or if you'd rather get a great deal at the possible expense of selection, do your shopping in the last hour of the market. Farmers without other distribution channels will often offer steep discounts at the end of the day to avoid driving back to the farm with a hard-earned truckload of compost. And if you can motivate on especially cold or rainy days, you'll get good prices while helping to keep your market thriving."
Thanks for reading! Let us know where your favorite farmer's market in the area is in the comments.